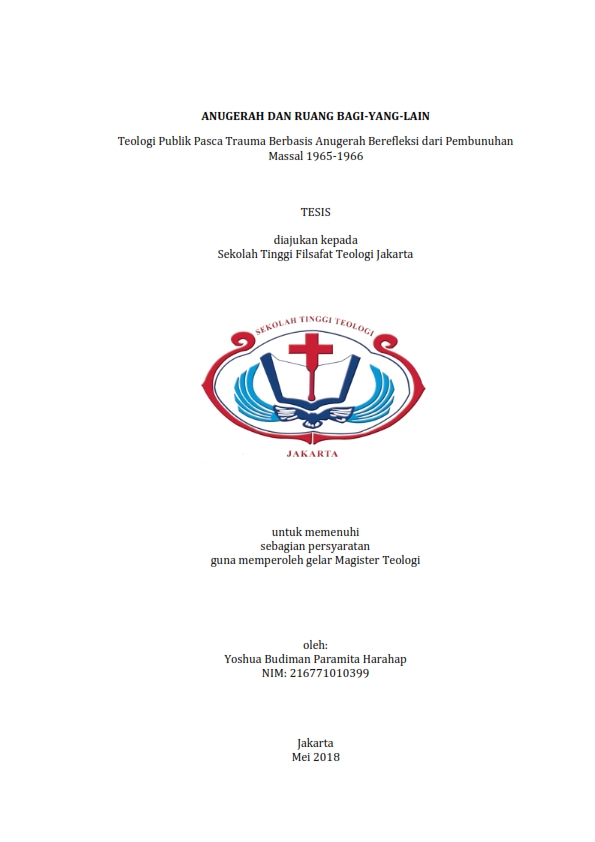 Anugerah dan Ruang Bagi yang Lain
In the midst of 1965-1966 massacre in Indonesia, is there any adequate theological language that allows us to talk about grace before the survivors, who witnessed the horror of the event? Historically speaking, is there any adequate response from the church at that time concerning 1965-1966 massacre that can be useful for doing post-traumatic public theology? What opportunity does the church have in order to able to engage in public discource about the contestation on this historical event?
This thesis is an effort to construct a post-traumatic public theology using
1965-1966 massacre as the theological locus. To do so, first I will try to investigate church documents, such as National Communion of Churhes in Indonesia between 1960-1970 as the primary source, documents from WCC and EACC as the global example, Regional Communion of Churches in Central Java as the regional example, and document from Christian Churches of Java as the local example. Then by referring to the dialectica of Cathy Caruth and Michael Rothberg, I will try to re-read this historical archive with multidirectional traumatic history perspective. In the last part, there will be a theological construction about post-traumatic theology from our reading of Dietrich Bonhoeffer theology about grace. This step will allow us to re-read grace as space-for-others as church-for-others. In this space, multinaration of history about 1965-1966 massacre will have their place.

Keywords:1965-1966 massacre, Indonesia NCC 1960-1970, history of trauma, multidirectional memory, post-traumatic public theology, grace for-the-others, space for-the-others.


Creator(s)

(2161010399) Yoshua Budiman Harahap

Contributor(s)
Publisher
STT Jakarta
Language
Indonesian
Series
Katalog Universitas
Category
s2
Sub Category
Thesis
Source
1800322; Harahap, Yoshua Budiman; 2161010399
Copyrights
The resource(s) is/are owned by the Creator/Contributor.Reproduction & distribution for non-commercial purposes is permitted provided that the credit for the Creator/Contributor and the source are explicitly stated,and no alteration are made
Subjects

GANGGUAN STRES PASCATRAUMA
TEOLOGI PUBLIK
TRAUMA
TRAUMA PSIKIS - ASPEK AGAMA - KRISTEN
Files