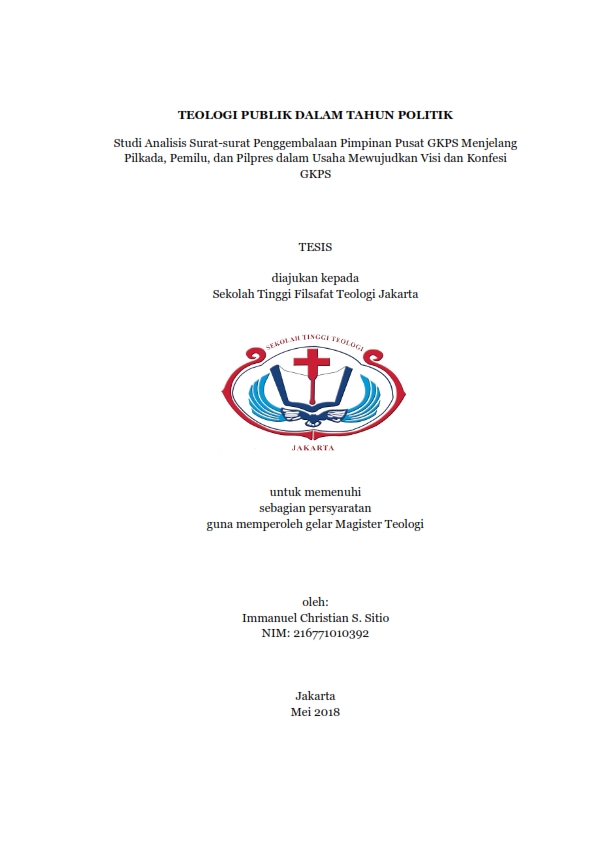 Teologi Publik dalam Tahun Politik
Since the beginning of Christianity, theology has always been connected with the public sphere. One aspect that is related to theology is politics. This explains that since the beginning of Christianity, theology hasn't been able to be separated from public sphere and politics. Therefore, the discussion about public theology and political theology is relevant to the Church including GKPS (Simalungun Protestant Christian Church).

This study discusses the forms of GKPS public theology based on pastoral letters during the political years. The said pastoral letters are issued by the GKPS Main Executive body prior to the election of regional heads (pilkada), general elections (pemilu), and election of the President and Vice President (pilpres) from 2008 to 2018. Relevant studies on the Vision of GKPS, "To be a Blessing and Caring Church," and the Confession (of Faith) of GKPS about the Church (article 4) and about the Church and the State (article 7) will also be used in this thesis.

This thesis argues that the pastoral letters issued ahead of pilkada, pemilu, and pilpres could be a form of GKPS public theology in its political years. The pastoral letters can also be used to help materialize the Vision and the Confession of GKPS. However, these letters can be inconsistent with the goal of achieving the Vision and the Confession of GKPS. Political interest or GKPS inconsistency is also the reason of the unsuccessful realization of the vision and confession.

Several references on public theology from Elaine Graham, Jürgen Moltmann, and Martin Marty will be discussed at the beginning of this thesis. The
theories about political theology will also be studied according to the ideas of Reinhold Niebuhr, J. Philip Wogaman, Richard Daulay, Andreas A. Yewangoe, and the Communion of Churches in Indonesia (PGI). In the next section of the thesis, history, the Vision, and the Confession of GKPS will also be discussed. Analysis of the pastoral letters published by the GKPS Main Executive body before pilkada, pemilu, and pilpres based on public and political theology theories will also be in this study.

Thus, at the end of this research we hope to find a adequate form of public theology and political view of GKPS towards the pilkada, pemilu, and pilpres.



Creator(s)

(2161010392) Immanuel Christian S. Sitio

Publisher
Sekolah Tinggi Teologi Jakarta
Language
Indonesian
Series
Katalog Universitas
Category
s2
Sub Category
Thesis
Source
1800352;SITIO, Immanuel C.S.;2161010392
Copyrights
The resource(s) is/are owned by the Creator/Contributor.Reproduction & distribution for non-commercial purposes is permitted provided that the credit for the Creator/Contributor and the source are explicitly stated,and no alteration are made
Subjects

PEMILU - INDONESIA
PILKADA
TEOLOGI - POLITIK
Files